Services
As a leading pallet manufacturer, distributor and logistic project management group, Pallet Express offers a full suite of solutions to manage customer pallet inventory and supply chain for maximum cost effectiveness and quality control.
On-Site Repair and Remanufacture
Pallet Express is committed to environmental concerns, and the use of recycling methods complements this focus. Throughout our history, Pallet Express has been a "green" company and has worked with the latest technology to maintain our commitment to the environment. Our range of recycling initiatives include:
Scrap and Pallet Removal
Pallet Recycling / Repair / Re-manufacture
Wood Recycling
The Pallet Express recycling division obtains used and broken pallets from vendors through scrap and pallet purchase from our customers. Scrap materials are returned to our recycling plans and sorted for reuse.
Used wood pallets are inspected, and graded and available for resale
Damaged pallets are disassembled for access to the usable boards
Used pallets are repaired to Pallet Express quality standards
Unusable lumber is ground into environmentally friendly mulch
Pallet Delivery and Acquisition
Pallet Express takes great pride in team work and our ability to exceed customer satisfaction. With our practical logistical presence and flexible trucking schedule, we can efficiently deliver or remove all types of pallets from any location, at any time. We provide fair compensation for GMA style, custom sized, and scrap pallets no longer in production.
Pallet Design System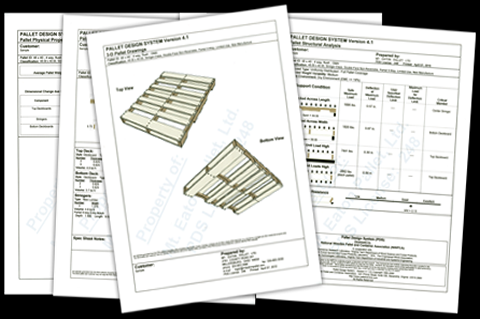 At Pallet Express, we use the Pallet Design System (PDS) to assist in designing our pallets to the exact needs of each customer. We have documented more than 100 different product designs and can develop a solution to meet the specifications for any design or size of pallet in demand. By utilizing this advanced software, we can design new pallets or redesign existing pallets to exceed customer satisfaction through various cost saving methodolgies.
Cost reduction of each pallet via pre-programmed production stations
Unused pallet re-fit methods through product reclaim quality control
JIT (just in time) logistics in pallet delivery and pickup
Contact our Sales Team and see first-hand how Pallet Express is positioned to offer solutions, products and services.
Delivery Methods
We take great pride in not only our high quality products and services, but also our predicable, flexible delivery time. We have numerous dry vans at each location, available for live loading or dropping. We also give our customers the option of delivery by flatbed, if convenient. In addition, customers have the option to maintain inventory at Pallet Express facilities for quick access and space management.
Inventory Control
Our teams frequently analyze the market in our industry to identify and monitor daily, weekly and monthly pallet usage trends to maintain efficient inventory levels. This methodology conserves facility space and ensures quality pallets are in the production cycle.
Pallet Express can perform inspections of pallet inventory to assure a standard of quality. Pallets can be identified according to quality standards and placed in areas for certain uses, or moved out of inventory and replaced according to defined standards. Pallet Express also offers an Asset Tag program – standard or customer designed to mark each pallet with valuable information.
Management Reports
Our management team is always exploring various ways to ensure our current and potential customers are given top notch service. Pallet Express is proud of its strong track record providing customers with quality product and timely delivery. We are always looking for opportunities to help our customers, that's why Pallet Express is always looking for creating alternate pallet life cycle and management reporting solutions.
Contact us to see how we can work towards a management solution for your all of your pallet needs.
Pallet Storage
Another option is to store any number of pallets at our any of our facilities. With our pallet storage option, your company can save valuable storage space and still have pallets on-hand.
If interested in our pallet storage option, please call the location closest to you and ask for further details.
Pallet Express Offers A Full Array Pallet Asset Tag Options
Pallet Asset Tag Example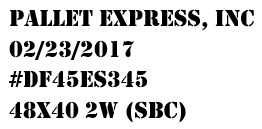 ISPM-15 Requirements

Heat Treatment (HT): Wood packaging material should be heated in a schedule that achieves a minimum core temperature of 56oC (133oF) for a minimum of 30 minutes. The American Lumber Standards Committee administers the U.S. certification program for heat treatment
Methyl Bromide (MB) Fumigation: The wood packaging material should be fumigated with methyl bromide. NWPCA has been tasked by the U.S. Animal and Plant Health Inspection Service to administer the fumigation program.
NOTE: ISPM 15 requirements apply to all species of coniferous (softwood) and non-coniferous (hardwood) packaging materials. Hardwood is no longer exempt.
Special Pallet Designs
Pallet Express management and engineering experience, along with state of the art machinary, are capable of producing quality unique pallet designs in volume and on schedule. We take pride successfully completing complex objectives on-time, on-budget. Contact our Sales Engineering team to discuss any specific requirements or specifications.
National Pallet Sales
For information regarding our National Pallet Sales Division, please contact our expert Team to discuss potential requirements or existing service upgrades.
National Sales Team – 1-813-752-1600


Tampa – Pallet Express, Inc
1503 Turkey Creek
Plant City, FL 33566
Office – 813-752-1600
Fax – 813-752-1612